Roman Empire > History >The Roman Empire Online
---
Chapters: 1 2 3 4 5 6 7 8 9 10 11 12 13 14 15 16 17 18 19 20 21 22 23 24 25 26 27 28 29 30 31 32 33 34 35 36 37 38 39 40 41 42 43 44 45 46
---
CHAPTER XXX.
CAESAR AUGUSTUS.

B.C. 33—A.D. 14.
The death of Antonius ended the fierce struggles which had torn Rome so long. Octavianus was left alone; all the men who had striven for the old government were dead, and those who were left were worn out and only longed for rest. They had found that he was kind and friendly, and trusted to him thankfully, nay, were ready to treat him as a kind of god. The old frame of constitution went on as usual; there was still a Senate, still consuls, and all the other magistrates, but Cæsar Octavianus had the power belonging to each gathered in one. He was prince of the Senate, which gave him rule in the city; prætor, which made him judge, and gave him a special guard of soldiers called the Prætorian Guard to execute justice; and tribune of the people, which made him their voice; and even after his triumph he was still imperator, or general of the army. This word becomes in English, emperor, but it meant at this time merely commander-in-chief. He was also Pontifex Maximus, as Julius Cæsar had been; and there was a general feeling that he was something sacred and set apart as the ruler and peace-maker; and, as he shared this feeling himself, he took the name of Augustus, which is the one by which he is always known.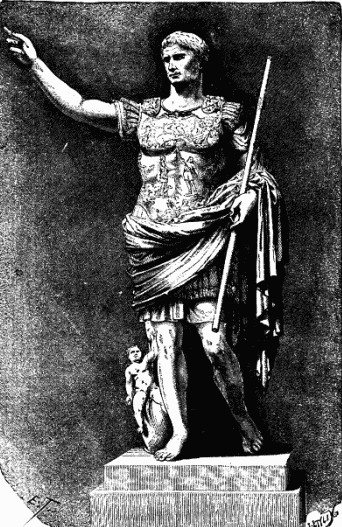 STATUE OF AUGUSTUS AT THE VATICAN.
He did not, however, take to himself any great show or state. He lived in his family abode, and dressed and walked about the streets like any other Roman gentleman of consular rank, and no special respect was paid to him in speech, for, warned by the fate of Julius, he was determined to prevent the Romans from being put in mind of kings and crowns. He was a wise and deep-thinking man, and he tried to carry out the plans of Julius for the benefit of the nation and of the whole Roman world. He had the survey finished of all the countries of the empire, which now formed a complete border round the Mediterranean Sea, reaching as far north as the British Channel, the Alps, and the Black Sea; as far south as the African desert, as far west as the Atlantic, and east as the borders of the Euphrates; and he also had a universal census made of the whole of the inhabitants. It was the first time such a thing had been possible, for all the world was at last at peace, so that the Temple of Janus was closed for the third and last time in Roman history. There was a feeling all over the world that a great Deliverer and peaceful Prince was to be expected at this time. One of the Sybils was believed to have so sung, and the Romans, in their relief at the good rule of Augustus, thought he was the promised one; but they little knew why God had brought about this great stillness from all wars, or why He moved the heart of Augustus to make the decree that all the world should be taxed—namely, that the true Prince of Peace, the real Deliverer, might be born in the home of His forefathers, Bethlehem, the city of David.
The purpose of Augustus' taxing was to make a regular division of the empire into provinces for the proconsuls to govern, with lesser divisions for the proprætors, while many cities, especially Greek ones, were allowed their own magistrates, and some small tributary kingdoms still remained till the old royal family should either die out or offend the Romans. In these lands the people were governed by their own laws, unless they were made Roman citizens; and this freedom was more and more granted, and saved them from paying the tribute all the rest had to pay, and which went to support the armies and other public institutions at Rome, and to provide the corn which was regularly distributed to such citizens as claimed it at Rome. A Roman colony was a settlement, generally of old soldiers who had had lands granted to them, and kept their citizenship; and it was like another little Rome managing its own affairs, though subject to the mother city. There were many of these colonies, especially in Gaul on the north coast, to defend it from the Germans. Cologne was one, and still keeps its name. The tribute was carefully fixed, and Augustus did his best to prevent the governors from preying on the people.
He tried to bring back better ways to Rome, which was in a sad state, full of vice and riot, and with little of the old, noble, hardy ways of the former times. The educated men had studied Greek philosophy till they had no faith in their own gods, and, indeed, had so mixed up their mythology with the Greek that they really did not know who their own were, and could not tell who were the greater gods whom Decius Mus invoked before he rushed on the enemy; and yet they kept up their worship, because their feasts were so connected with the State that everything depended on them; but they made them no real judges or helpers. The best men of the time were those who had taken up the Stoic philosophy, which held that virtue was above all things, whether it was rewarded or not; the worst were often the Epicureans, who held that we had better enjoy all we can in this life, being sure of nothing else.
Learning was much esteemed in the time of Augustus. He and his two great friends, Caius Cilnius Mæcenas and Vipsanius Agrippa, both had a great esteem for scholarship and poetry, and in especial the house of Mæcenas was always open to literary men. The two chief poets of Rome, Publius Virgilius Maro and Quintus Horatius Flaccus, were warm friends of his. Virgil wrote poems on husbandry, and short dialogue poems called eclogues, in one of which he spoke of the time of Augustus in words that would almost serve as a prophecy of the kingdom of Him who was just born at Bethlehem. By desire of Augustus, he also wrote the Æneid, a poem on the war-doings of Æneas and his settlement in Italy.
Horace wrote odes and letters in verse and satires, which show the habits and ways of thinking of his time in a very curious manner; and there were many other writers whose works have not come down to us; but the Latin of this time is the model of the language, and an Augustan age has ever since been a term for one in which literature flourishes.
All the early part of Augustus' reign was prosperous, but he had no son, only a daughter named Julia. He meant to marry her to Marcellus, the son of his sister Antonia, but Marcellus died young, and was lamented in Virgil's Æneid; so Julia was given to Agrippa's son. Augustus' second wife was Livia, who had been married to Tiberius Claudius Nero, and had two sons, Tiberius and Drusus, whom Augustus adopted as his own and intended for his heirs; and when Julia lost her husband Agrippa and her two young sons, he forced Tiberius to divorce the young wife he really loved to marry her. It was a great grief to Tiberius, and seems to have quite changed his character into being grave, silent, and morose. Julia, though carefully brought up, was one of the most wicked and depraved of women, and almost broke her father's heart. He banished her to an island near Rhegium, and when she died there, would allow no funeral honors to be paid to her.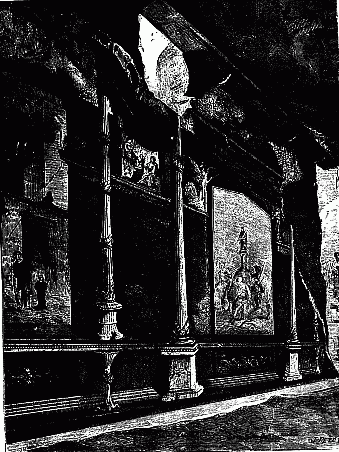 PAINTINGS IN THE HOUSE OF LIVIA.
The peace was beginning to be broken by wars with the Germans; and young Drusus was commanding the army against them, and gaining such honor that he was called Germanicus, when he fell from his horse and died of his injuries, leaving one young son. He was buried at Rome, and his brother Tiberius walked all the way beside the bier, with his long flaxen hair flowing on his shoulders. Tiberius then went back to command the armies on the Rhine. Some half-conquered country lay beyond, and the Germans in the forests were at this time under a brave leader called Arminius. They were attacked by the proconsul Quinctilius Varus, and near the river Ems, in the Herycimian forest, Arminius turned on him and routed him completely, cutting off the whole army, so that only a few fled back to Tiberius to tell the tale, and he had to fall back and defend the Rhine.
The news of this disaster was a terrible shock to the Emperor. He sat grieving over it, and at times he dashed his head against the wall, crying, "Varus, Varus! give me back my legions." His friends were dead, he was an old man now, and sadness was around him. He was soon, however, grave and composed again; and, as his health began to fail, he sent for Tiberius and put his affairs into his hands. When his dying day came, he met it calmly. He asked if there was any fear of a tumult on his death, and was told there was none; then he called for a mirror, and saw that his grey hair and beard were in order, and, asking his friends whether he had played his part well, he uttered a verse from a play bidding them applaud his exit, bade Livia remember him, and so died in his seventy-seventh year, having ruled fifty-eight years—ten as a triumvir, forty-eight alone.