Roman Empire > History >The Roman Empire Online
---
Chapters: 1 2 3 4 5 6 7 8 9 10 11 12 13 14 15 16 17 18 19 20 21 22 23 24 25 26 27 28 29 30 31 32 33 34 35 36 37 38 39 40 41 42 43 44 45 46
---
CHAPTER XXXVII.
CONSTANTINE THE GREAT.

312-337.
Constantine entered Rome as a Christian, and from his time forward Christianity prevailed. He reigned only over the West at first, but Licinius overthrew Daza, treating him and his family with great barbarity, and then Constantine, becoming alarmed at his power, marched against him, beat him in Thrace, and ten years later made another attack on him. In the battle of Adrianople, Licinius was defeated, and soon after made prisoner and put to death. Thus, in 323, Constantine became the only Emperor.
He was a Christian in faith, though not as yet baptized. He did not destroy heathen temples nor forbid heathen rites, but he did everything to favor the Christians and make Christian laws. Churches were rebuilt and ornamented; Sunday was kept as the day of the Lord, and on it no business might be transacted except the setting free of a slave; soldiers might go to church, and all that had made it difficult and dangerous to confess the faith was taken away. Constantine longed to see his whole empire Christian; but at Rome, heathen ceremonies were so bound up with every action of the state or of a man's life that it was very hard for the Emperor to avoid them, and he therefore spent as little time as he could there, but was generally at the newer cities of Arles and Trier; and at last he decided on founding a fresh capital, to be a Christian city from the first.
The place he chose was the shore of the Bosphorus, where Asia and Europe are only divided by that narrow channel, and where the old Greek city of Byzantium already stood. From hence he hoped to be able to rule the East and the West. He enlarged the city with splendid buildings, made a palace there for himself, and called it after his own name—Constantinople, or New Rome, neither of which names has it ever lost. He carried many of the ornaments of Old Rome thither, but consecrated them as far as possible, and he surrounded himself with Bishops and clergy. His mother Helena made a pilgrimage to Jerusalem, to visit the spots where our blessed Lord lived and died, and to clear them from profanation. The churches she built over the Holy Sepulchre and the Cave of the nativity at Bethlehem have been kept up even to this day.
CONSTANTINOPLE.
There was now no danger in being a Christian, and thus worldly and even wicked men and women owned themselves as belonging to the Church. So much evil prevailed that many good men fled from the sight of it, thinking to do more good by praying in lonely places free from temptation than by living in the midst of it. These were called hermits, and the first and most noted of them was St. Anthony. The Thebaid, or hilly country above Thebes in Egypt, was full of these hermits. When they banded together in brotherhoods they were called monks, and the women who did the like were called nuns.
At this time there arose in Egypt a priest named Arius, who fell away from the true faith respecting our blessed Lord, and taught that he was not from the beginning, and was not equal with God the Father. The Patriarch of Alexandria tried to silence him, but he led away an immense number of followers, who did not like to stretch their souls to confess that Jesus Christ is God. At last Constantine resolved to call together a council of the Bishops and the wisest priests of the whole Church, to declare what was the truth that had been always held from the beginning. The place he appointed for the meeting was Nicea, in Asia Minor, and he paid for the journeys of all the Bishops, three hundred and eighteen in number, who came from all parts of the empire, east and west, so as to form the first Oecumenical or General Council of the Church. Many of them still bore the marks of the persecutions they had borne in Diocletian's time: some had been blinded, or had their ears cut off; some had marks worn on their arms by chains, or were bowed by hard labor in the mines. The Emperor, in purple and gold, took a seat in the council as the prince, but only as a layman and not yet baptized; and the person who used the most powerful arguments was a young deacon of Alexandria named Athanasius. Almost every Bishop declared that the doctrine of Arius was contrary to what the Church had held from the first, and the confession of faith was drawn up which we call the Nicene Creed. Three hundred Bishops at once set their seals to it, and of those who at first refused all but two were won over, and these were banished. It was then that the faith of the Church began to be called Catholic or universal, and orthodox or straight teaching; while those who attacked it were called heretics, and their doctrine heresy, from a Greek word meaning to choose.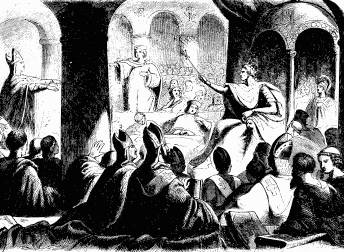 COUNCIL OF NICEA.
The troubles were not at an end with the Council and Creed of Nicea. Arius had pretended to submit, but he went on with his false teaching, and the courtly Bishop Eusebius of Nicomedia, who had the ear of the Emperor, protected him. Athanasius had been made Patriarch, or Father-Bishop, of Alexandria, and with all his might argued against the false doctrine, and cut off those who followed it from the Church. But Eusebius so talked that Constantine fancied quiet was better than truth, and sent orders to Athanasius that no one was to be shut out. This the Patriarch could not obey, and the Emperor therefore banished him to Gaul. Arius then went to Constantinople to ask the Emperor to insist on his being received back to communion. He declared that he believed that which he held in his hand, showing the Creed of Nicea, but keeping hidden under it a statement of his own heresy.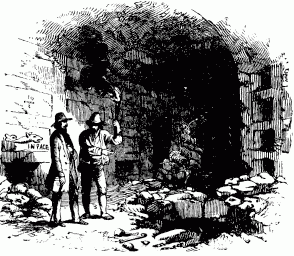 CATACOMBS.
"Go," said Constantine; "if your faith agree with your oath, you are blameless; if not, God be your judge;" and he commanded that Arius should be received to communion the next day, which was Sunday. But on his way to church, among a great number of his friends, Arius was struck with sudden illness, and died in a few minutes. The Emperor, as well as the Catholics, took this as a clear token of the hand of God, and Constantine was cured of any leaning to the Arians, though he still believed the men who called Athanasius factious and troublesome, and therefore would not recall him from exile.
The great grief of Constantine's life was, that he put his eldest son Crispus to death on a wicked accusation of his stepmother Fausta. On learning the truth, he caused a silver statue to be raised, bearing the inscription, "My son, whom I unjustly condemned;" and when other crimes of Fausta came to light, he caused her to be suffocated.
Baptism was often in those days put off to the end of life, that there might be no more sin after it, and Constantine was not baptized till his last illness had begun, when he was sixty-four years old, and he sent for Sylvester, Pope or Bishop of Rome, where he then was, and received from him baptism, absolution, and Holy Communion. After this, Constantine never put on purple robes again, but wore white till the day of his death in 337.