Roman Empire > History >The Roman Empire Online
---
Chapters: 1 2 3 4 5 6 7 8 9 10 11 12 13 14 15 16 17 18 19 20 21 22 23 24 25 26 27 28 29 30 31 32 33 34 35 36 37 38 39 40 41 42 43 44 45 46
CHAPTER XXXVIII.
CONSTANTIUS.

337-364.
Constantine the Great left three sons, who shared the empire between them; but two were slain early in life, and only Constantius, the second and worst of the brothers, remained Emperor. He was an Arian, and under him Athanasius, who had returned to Alexandria, was banished again, and took refuge with the Pope Liberius at Rome. Pope—papa in Latin—is the name for father, just as patriarch is; and the Pope had become more important since the removal of the court from Rome; but Constantius tried to overcome Liberius, banished him to Thrace, and placed an Arian named Felix in his room. The whole people of Rome rose in indignation, and Constantius tried to appease them by declaring that Liberius and Felix should rule the Church together; but the Romans would not submit to such a decree. "Shall we have the circus factions in the Church?" they said. "No! one God, one Christ, one Bishop!" In the end Felix was forced to fly, and Liberius kept his seat. Athanasius found his safest refuge in the deserts among the hermits of the Thebaid in Egypt.
Meantime Sapor, king of Persia, was attacking Nisibis, the most Eastern city of the Roman empire, where a brave Catholic named James was Bishop, and encouraged the people to a most brave resistance, so that they held out for four months; and Sapor, thinking the city was under some divine protection, and finding that his army sickened in the hot marshes around it, gave up the siege at last.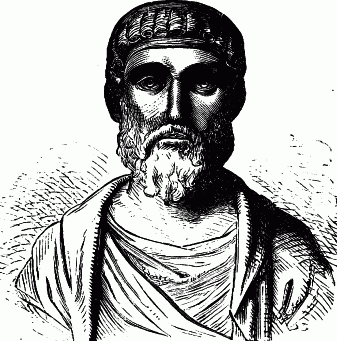 JULIAN.
Constantius was a little, mean-looking man, but he dressed himself up to do his part as Emperor. He had swarms of attendants like any Eastern prince, most of them slaves, who waited on him as if he was perfectly helpless. He had his face painted, and was covered with gold embroidery and jewels on all state occasions, and he used to stand like a statue to be looked at, never winking an eyelid, nor moving his hand, nor doing anything to remind people that he was a man like themselves. He was timid and jealous, and above all others, he dreaded his young cousin Julian, the only relation he had. Julian had studied at Athens, and what he there heard and fancied of the old Greek philosophy seemed to him far grander than the Christianity that showed itself in the lives of Constantius and his courtiers. He was full of spirit and ability, and Constantius thought it best to keep him at a distance by sending him to fight the Germans on the borders of Gaul. There he was so successful, and was such a favorite with the soldiers, that Constantius sent to recall him. This only made the army proclaim him Emperor, and he set out with them across the Danubian country towards Constantinople, but on the way met the tidings that Constantius was dead.
This was in 361, and without going to Rome Julian hastened on to Constantinople, where he was received as Emperor. He no longer pretended to be a Christian, but had all the old heathen temples opened again, and the sacrifices performed as in old times, though it was not easy to find any one who recollected how they were carried on. He said that all forms of religion should be free to every one, but he himself tried to live like an ancient philosopher, getting rid of all the pomp of jewels, robes, courtiers, and slaves who had attended Constantius, wearing simply the old purple garb of a Roman general, sleeping on a lion's skin, and living on the plainest food. Meantime, he tried to put down the Christian faith by laughing at it, and trying to get people to despise it as something low and mean. When this did not succeed, he forbade Christians to be schoolmasters or teachers; and as they declared that the ruin of the Temple of Jerusalem proved our Lord to have been a true Prophet, he commanded that it should be rebuilt. As soon as the foundations were dug, there was an outburst of fiery smoke and balls of flame which forced the workmen to leave off. Such things sometimes happen when long-buried ruins are opened, from the gases that have formed there; but it was no doubt the work of God's providence, and the Christians held it as a miracle.
Julian hated the Catholic Christians worse than the Arians, because he found them more staunch against him. Athanasius had come back to Alexandria, but the Arians got up an accusation against him that he had been guilty of a murder, and brought forward a hand in a box to prove the crime; and though Athanasius showed the man said to have been murdered alive, and with both his hands in their places, he was still hunted out of Alexandria, and had to hide among the hermits of the Thebaid again. When any search was threatened of the spot where he was, the horn was sounded which called the hermits together to church, and he was taken to another hiding-place. Sometimes he visited his flock at Alexandria in secret, and once, when he was returning down the Nile, he learned that a boat-load of soldiers was pursuing him. Turning back, his boat met them. They called out to know if Athanasius had been seen. "He was going down the Nile a little while ago," the Bishop answered. His enemies hurried on, and he was safe.
Julian was angered by finding it impossible to waken paganism. At one grand temple in Asia, whither hundreds of oxen used to be brought to sacrifice, all his encouragement only caused one goose to be offered, which the priest of the temple received as a grand gift. Julian expected, too, that pagans would worship their old gods and yet live the virtuous lives of Christians; and he was disappointed and grieved to find that no works of goodness or mercy sprang from those who followed his belief. He was a kind man by nature, but he began to grow bitter with disappointment, and to threaten when he found it was of no use to persuade; and the Christians expected that there would be a great persecution when he should return from an expedition into the East against the king of Persia.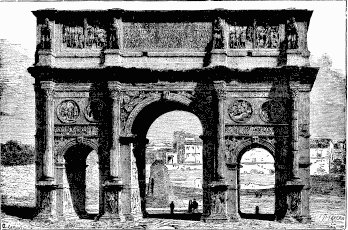 ARCH OF CONSTANTINE.
He went with a fine army in ships down the Euphrates, and thence marched into Persia, where King Sapor was wise enough to avoid a battle, and only retreat before him. The Romans were half starved, and obliged to turn back. Then Sapor attacked their rear, and cut off their stragglers. Julian shared all the sufferings of his troops, and was always wherever there was danger. At last a javelin pierced him under the arm. It is said that he caught some of his blood in his other hand, cast it up towards heaven, and cried, "Galilean, Thou hast conquered." He died in a few hours, in 363, and the Romans could only choose the best leader they knew to get them out of the sad plight they were in—almost that of the ten thousand Greeks, except that they knew the roads and had friendly lands much nearer. Their choice fell on a plain, honest Christian soldier named Jovian, who did his best by making a treaty with Sapor, giving up all claim to any lands beyond the Tigris, and surrendering the brave city of Nisibis which had held out so gallantly—a great grief to the Eastern Christians. The first thing Jovian did was to have Athanasius recalled, but his reign did not last a year, and he died on the way to Constantinople.