Anno Urbis
This site is dedicated to bringing you information about the wonder that was the Roman Empire and how its legacy still shapes our history, our language, and the foundations of our society and its institutions. The Roman Empire endures!

The City of Rome was traditionally founded in 753 B.C. by our calendar. The Romans measured their calendar from the foundation of the City, or "Anno urbis conditae". By their calendar, today is Anno Urbis ("The Year of the City") 2762.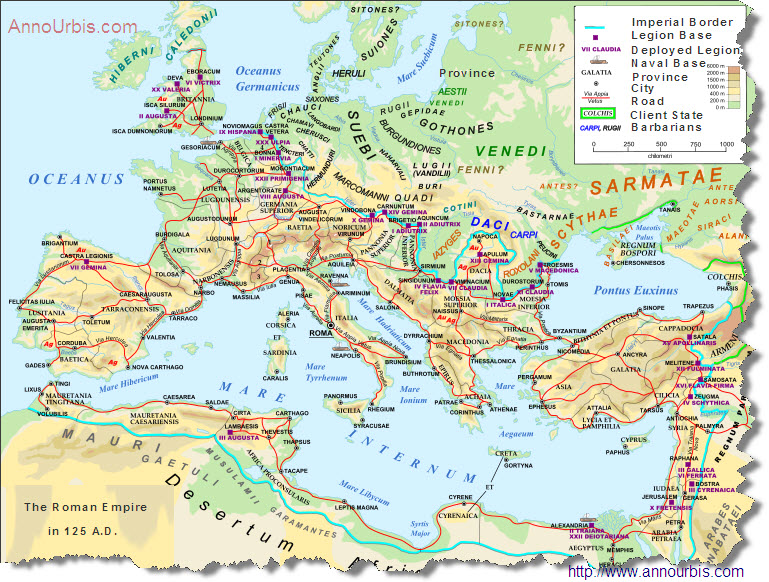 The Roman Empire at its Maximum Extent


Map of the Roman Empire adapted from a work by Andrein and licensed under a Creative Commons Licence



Below you will find a number of texts and resources that will be of use to anyone interested in the Roman Empire. Currently the documents are presented in small readable segments which allow you to browse these text books online. We have also added a site wide search engine to make finding information about the Roman Empire easier. And we have introduced a forum where anyone interested in roman history or society can post ideas or ask questions. We also think that it would be interesting to have a "What if" or "Alternate History" section to discuss what might have happened if for example, Julius Caesar had heeded the warnings and escaped assassination, or if the Emperor Valens had won the battle of Adrianoples instead of the Roman Army being destroyed by the barbarian invaders. Our world would definitely be different today. This is where you can let your imagination reshape our history.
Roman Empire - Texts and Resources